Friends and Fellow Anglers, Runoff
is winding down on most area streams and fishing this summer should be
better than the past few drought plagued seasons. The Stonefly Hatch is
in progress on the Cimarron and fishing has been excellent on the lower
reaches of the river as they haven't been releasing a significant
amount of water from the dam. The Cimarroncita has been especially good
with # 12 Stimulators. We have been fishing on the Costilla also and it
looks like the fish are in good shape there also. We have a new piece
of private water on the lower river near Amalia.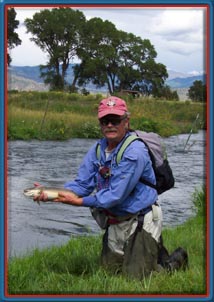 The Valle Vidal opens
on July 1st and there is plenty of water in the resevoir this year so
flows should be decent. The Red and the Embudo are still running high
but are clearing and should be great by late June. The Conejos probably
won't be fishing till late June as they usually have a more intense,
long lasting runoff (Its running 1300cfs on the lower river now). We
have access thru Conejos River Anglers to a couple of private leases
including the Hamilton Lease on the upper river and a new one down by
Broyles Bridge. Culebra Creek is starting to clear and Rita had a good
day up there yesterday with a couple of guys from Amarillo.
In August we are having a series of
fly fishing camps on the Cimarroncita Ranch that will include expert
instruction in all levels of fly fishing, lodging and access to the
"Dream Water" on the Cita. Myself, Rita and Doc Thompson will be the
instructors/guides. For details visit the Cita's website at
cimrroncita.com
Looks like a banner year in the Sangre de Christos
– Lake Havasu
– Lake Havasu